FastBraces®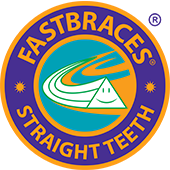 Sweta Sheth, DDS is
a proud Fastbraces® provider:
braces technology that is fast,
safe and affordable.
If you are unhappy with your smile because of crowded, overlapped, or crooked teeth, there are alternatives to traditional braces. In fact, FastBraces® can align your teeth much quicker that traditional methods. As a certified FastBraces® dentist, Dr. Sheth happily offers this revolutionary orthodontic treatment for patients.
A Straight Smile Promotes Oral Health
While a straight smile is certainly attractive, having your teeth in proper alignment is also good for your oral health. Severely crowded and overlapped teeth are more vulnerable to decay and gum disease than straight teeth. This is because crowded and crooked teeth are very difficult to keep clean. When your teeth are properly aligned, it is much easier to remove daily plaque deposits. It is also easier for our dental hygienists to remove tartar buildup.
How FastBraces® Work
FastBraces® are a revolutionary and patented system that straightens teeth in a fraction of the time it takes to achieve a straight smile with traditional metal and wire braces. Traditional braces first straighten the crowns of teeth, the visible portion of the tooth above the gum line and then the roots. This process can take about two years. By straightening the roots and crowns of teeth at the same time, patients can achieve a straight smile in a year or sooner with FastBraces®.
Benefits of FastBraces®
The development of this technology was tested for the last 20 years to ensure patients satisfaction and safety. Since FastBraces® significantly reduces treatment time, this system can also reduce typical discomfort associated with traditional braces. Because the treatment is so effective, patients also do not have to wear retainers as long as they would with traditional treatment methods. In fact, after receiving treatment with FastBraces®, patients only have to wear a retainer for 15 minutes a day. Lastly, shorter treatment times also save patients money because fewer trips to the dentist are required.
If you are interested in enjoying the benefits of a straighter smile, we invite you to schedule a one-on-one consultation with Dr. Sheth.
Bliss Dental - Dallas
18217 Midway Road
#122
Dallas, TX 75287
Bliss Dental - Euless
711 S Industrial Blvd
#110
Euless, TX 76040
our office hours
Monday:
Tuesday:
Wednesday:
Thursday:
Friday:
Saturday:

10:00am - 7:00pm
10:00am - 7:00pm
10:00am - 6:00pm
10:00am - 7:00pm
10:00am - 6:00pm
10:00am - 2:00pm

Enjoy your Dental Visit!
Dental Care for Whole family
Insurance friendly and payment plans
No insurance! No problem!
TV's in treatment rooms
Nitrous Oxide
Emergencies handled promptly
Evening and weekend hours
Full and Partial Dentures
Porcelain veneers